Mike Myers: Del Heavy al Pop sesentero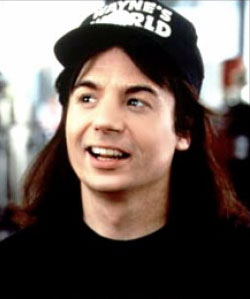 Hace unos días, y sin haberlo deseado, voví a ver películas que tenían un mismo elemento en común: Las tres estaban protagonizadas por el mismo actor. Se trata de MIKE MYERS, un comediante-gesticulante donde los haya, pero con un sentido del humor que hace que me parta de risa nada mas verle. Con aspecto normalito y con muecas no muy desorbitadas hace del humor escatológico(en ocasiones,je) algo interesante y original, riéndose a carcajadas el mismo de lo que hace, de sus tonterías y patochadas.
Las películas en cuestión fueron tres: WAYNE'S WORLD, y las segunda y tercera parte de la saga del espia británico más PSICODÉLICO y MOLÓN del mundo del cine: AUSTIN POWERS.
En su faceta como Espia psicodélico sesentero
La primera, WAYNE'S WORLD, me recordaba a aquellos momentos que pasaba escuchando con mi hermano a grupos como IRON MAIDEN, AEROSMITH, JUDAS PRIEST,etc...Mientras veía a BEAVIS AND BUTT-HEAD en la MTV...siempre comparé la pareja de rockeros cabezas-hueca de la serie de dibujos animados con la pareja que formaban Myers y Dana Carvey en la mítica película. Fue a mediados de los 90 cuando la ví por primera vez.
Beavis and Butt-Head, serie mítica de la MTV
Wayne Campbell(Mike Myers) y Garth(Dana Carvey) son dos jóvenes a los que le encantan el Heavy-metal de finales de los 80-principios de los 90 y que juntos emiten en directo, desde el sotano de la casa de Wayne, mediante una emisora de televisión pirata, un programa llamado "El mundo de Wayne", donde a ritmo de cuerdas de metal y con un cachondeo incomparable dan rienda suelta a sus locuras y desmadres.
El desparrame se tuerce cuando aquellos que ven el programa como una estupidez creada por esa " nueva generación de jovenes melenudos" que no tienen ningun sentido por la educación y el futuro, simbolizado por un representante de una famosa cadena de televisión, quieren comprar el programa, mostrando un falso interés, y manejarle a su antojo.
En el trasfondo de la historia, un mundo conservador, representado por las grandes compañias que solo buscan el dinero; y otro mundo, "El mundo de Wayne", un mundo en el que lo único que importa es la diversión aunque sea a base de sinsentidos, a ritmo de grupos de rock como Queen.Un mundo y unos personajes reflejo de la juventud que vive amarrada a la cultura musical, ya sea heavy, punk o pop a la que muchos pertenecemos.
El concierto con la presencia de un auténtico Alice Cooper que en los Backstage es una persona con muchísima cultura, suelta una risotada sobre todo aquel que dice que los grupos de Heavy-metal no pueden ser personas de culto...
Y la escena del Bohemian raphsody de Queen siempre será mi favorita...
Mike Myers es un actor hijo de padres británicos, quienes emigraron a Canadá desde la ciudad portuaria de Liverpool en tiempos de guerra.
El primer contacto de Myers con el mundo audiovisual fueron sus apariciones durante su niñez en varios anuncios publicitarios. En su etapa en el instituto Stephen Leacock tomó lecciones de danza y comenzó a crear sus primeros personajes cómicos, predecesores de los que ahora me divierten tanto y lo hicieron durante años.
Triunfó en el programa "Saturday Night live" como tantos otros como Jim Carrey.
En su primera aparición en la pantalla grande fue de la mano de Ben Stiller y su corto "ELVIS STORIES"